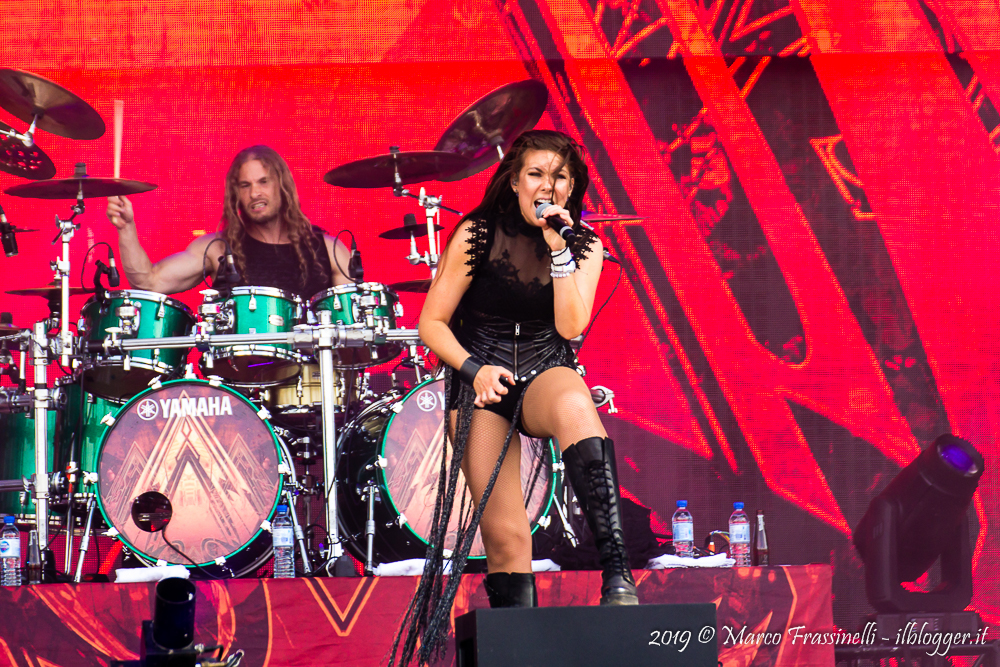 Quando si va a festival come Knotfest meets Hestfest 2019, è impossibile che si conoscano già tutti i gruppi in line-up. Tali festival sono quindi l'occasione ideale per allargare i propri orizzonti musicali e scoprire nuovi nuovi gruppi. Così è stato per me con gli Amaranthe.
Gli Amaranthe sono un supergruppo svedese in attività dal 2008. Il loro stile è molto difficile da etichettare dato che nel loro repertorio mischiano vari generi musicali, dal dance-rock al motalcore. Questa varietà la si nota subito ascoltando le voci dei tra cantanti sul palco: Elize Ryd con un canto dance, Nils Molin con un canto pulito e melodico, Henrik Englund specializzato in growl e voce death.
Degli originali Avalanche, nome del gruppo prima di cambiarlo in Amaranthe nel 2009 a causa di problemi legali, sono rimasti tre membri: la cantante Elize Ryd, il polistrumentista Olof Morck (chitarre e tastiere) e il batterista Morten Løwe Sørensen. Gli altri componenti del gruppo sono il cantante Nils Molin che dal 2017 a sostituito Jake E., il già citato Henrik Englund subetranto a Andy Solveström nel 2013 e il bassista Johan Andreassen, membro del gruppo dal 2010.
Il concerto si è aperto con una intro video del nuovo disco Helix e poi proseguire con la seguente setlist:
Maximize
Digital World
Inferno
Hunger
Amaranthine
GG6
Helix
The Nexus
Drop Dead Cynical
L'esibizione, molto apprezzata dal pubblico, ha quindi visto una buona alternanza di pezzi più soft con pezzi più duri. Tra le canzoni che ho apprezzato di più sicuramente Amaranthine, The Nexus e Drop Dead Cynical.
Un momento curioso del live è stato quando il gruppo si è dovuto fermare in quanto disturbato dal sound check che stava avvenendo sul palco limitrofo. Il pubblico si è messo perciò a urlare ad una voce, rivolto all'altro palco, "Stop fucking playing! Stop fucking playind!". Fortunatamente in breve la situazione è rientrata e la bellissima Elize Ryd, che nel frattempo aveva accennato qualche strofa a cappella, ha potuto riprendere il concerto con il resto del gruppo.
Una nota conclusiva la voglio spendere proprio sulla cantante svedese. Nel mondo del metal, e il Knotfest meets Hellfest 2019 non faceva eccezione, è raro trovare donne leader del gruppo (più spesso le si vede come vocalist). Elize Ryd, invece, è una grande frontwoman, con un'ottima capacità di interazione con il pubblico.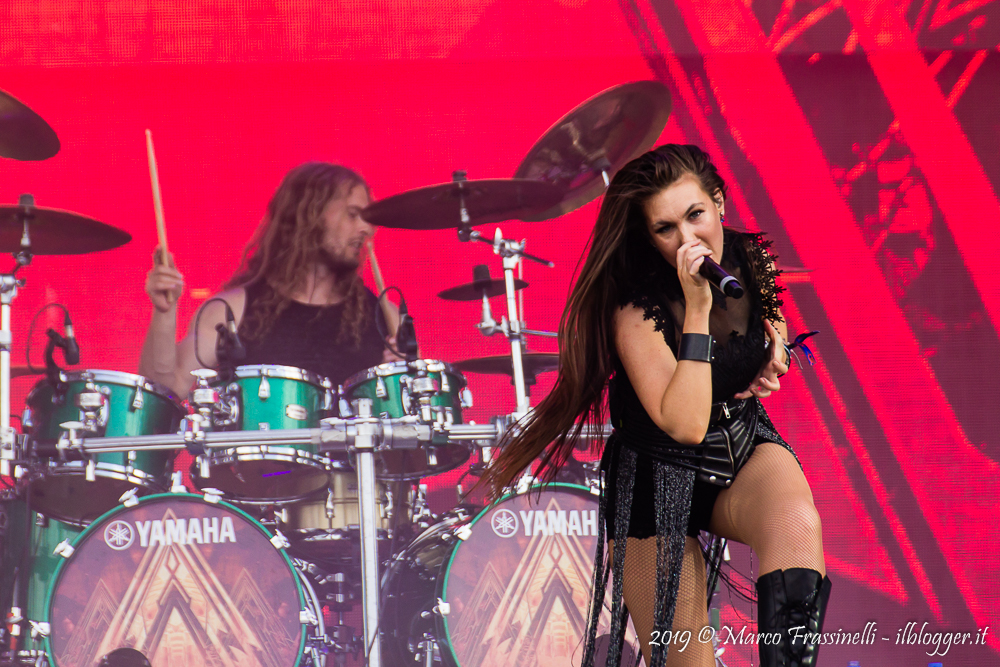 Se voleste recuperare qualche disco degli Amaranthe, cosa che vi consiglio caldamente, ecco la loro discografia completa con i link per acquistare i relativi CD:
Qui di seguito il video con alcuni dei momenti salienti del concerto.