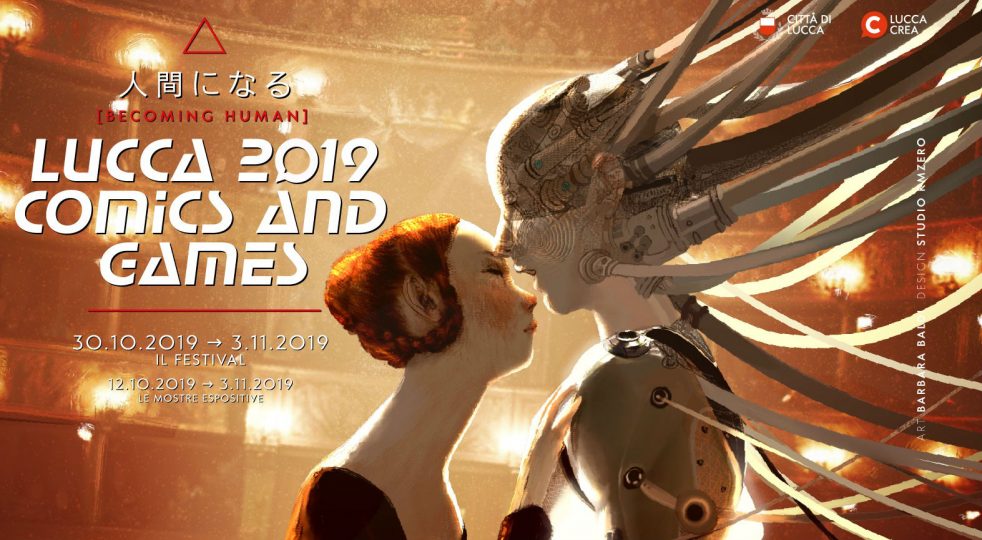 Si svolgerà dal 30 ottobre al 3 novembre la fiera nerd per eccellenza, Lucca Comics and Games 2019. Giunta al 53° anno di età, Lucca C&G è ormai un appuntamento più che imperdibile per ogni appassionato di fumetti e giochi, ma anche di cinema, serie tv, miniature, cosplay, videogame e chi più ne ha più ne metta. Ad un paio di settimane dell'inizio della bolgia, ecco le prime novità su questa edizione.
COMICS
Come ogni anno saranno centinaia i fumettisti presenti alla più importante fiera del settore in Italia. Tra questi il giapponese Hirohiko Araki, celebre autore del manga Le bizzarre avventure di JoJo. Altro grande ospite è Jim Starlin, autore di La morte di Capitan Marvel e creatore di personaggi quali Thanos.
Altri ospiti già confermati sono: Donny Cates e Daniel Warren Johnson, Chris Claremont, Erik Larsen, Pepe Larraz, Don Rosa, Sara Pichelli, Rokuda Noboru (Dash Kappei), Donny Cates, Megan Hutchison, Zerocalcare, Ramón K. Pérez, Cliff Chiang, Gabriel Bá, Fábio Moon, Rebecca Sugar, Sio, Bruno Cannucciari, LRNZ, Grégory Panaccione, Emanuele Tenderini, Jonathan Hickman, Pepe Larraz, Altan, Gipi, Filippo Scòzzari, Manuele Fior, Shintaro Kago, Alain Ayroles, Juanjo Guarnido, Vittorio Giardino, Rubén Pellejero.
Come avvenne lo scorso anno con Kobane Calling on Stage, anche quest'anno Nicola Zavagli porta in scena uno spettacolo teatrale tratto da un fumetto: Cinzia, dall'omonima graphic novel di Leo Ortolani.
GAMES
La sezione Games sarà come sempre nel gigantesco padiglione Carducci da ben 10.000 metri quadri. Tra gli ospiti di questa sezione troviamo vari artisti di Magic: The Gathering, tra i quali John Avon e Melissa Benson, e game designer di successo come Chris Pramas.
Tante iniziative legate a Dungeons & Dragons, tra le quali una partita in diretta a cui parteciperà l'attore Joe Manganiello e il D&D Epic più grande d'Europa. Tra i giochi presentati in questa edizione troveremo Penguinramids, vincitore del premio Gioco Inedito 2018/2019.
FANTASY
Tra gli anniversari omaggiati quest'anno dalla sezione fantasy spiccano quelli alla saga La Ruota del Tempo, a La storia infinita e allo scrittore William Goldman (La Principessa Sposa). Tra gli ospiti della sezione, gli scrittori Andrzej Sapkowski (The Witcher) e Raymond E. Feist (Riftwar) e gli illustratori Karl Kopinski e Paul Bonner.
VIDEOGAME
Un'altra sezione ricca di contenuti e di occasioni di divertimento è l'area Videogame. Retro-gaming, Merchandising, Modding, Indie gaming e Hardware top-tier saranno presenti nel Padiglione San Donato mentre la E-Sports Cathedral di San Romano e il padiglione Cavallerizza ospiteranno sfide e streaming su Twitch. Tra le novità di quest'anno, per la prima volta gli spettatori potranno assistere alle finali della Pro League di Quake. Tra i titoli più attesi a Lucca Comics and Games 2019, spiccano Call of Duty: Modern Warfare e Dragon Ball Z Kakarot.
JUNIOR
Concorsi, laboratori, masterclass, teatro e tanto altro nella sezione dedicata all'editoria per i più giovani. Tra gli ospiti di spicco Thomas Astruc, creatore della serie TV animata Miraculous – Le storie di Ladybug e Chat Noir. Bella notizia per le famiglie: al Family Palace, così come al Comics e al Games, saranno presenti Family Corner dove cambiare pannolini, allattare e scaldare le pappe. Grazie allo Stregatto di Imperia, per la prima volta a Lucca Junior ci sarà una sezione dedicata ai giochi per bambini, la Lucca Games 4 Kids.
MUSIC
Tantissimi i gruppi e i cantanti che animeranno i palchi di Lucca Comics and Games 2019 da Luca Carboni, grande ammiratore di Hugo Pratt, a Giorgio Vanni, da Ruggero de I Timidi a i Rockets, a Cristina D'Avena, gli Oliver Onions, Immanuel Casto. Attenzione perché, sebbene tutti i concerti siano gratuiti, per alcuni di essi è comunque necessario prenotarsi.
COSPLAY
Sono tantissimi gli eventi dedicati al mondo dei cosplay, tra sfilate, competizioni, raduni, esibizioni. Tra i temi principali ci saranno omaggi a Le bizzarre avventure di JoJo, ai supereroi Marvel, a Rat-Man, The Witcher, Resident Evil e al mondo Steampunk.
JAPAN
Una piccola enclave giapponese sarà l'area Japan di Lucca Comics and Games 2019, con tanto di presenza dell'Ambasciata del Giappone e dell'Ente Nazionale del Turismo Giapponese. Nella Japan Town troverete conferenze, mostre, figures, contest di manga e tanto altro. Tra gli eventi più curiosi, sicuramente le sfide di lancio degli shuriken come dei veri ninja e il laboratorio di Kintsugi, l'arte di restauro delle ceramiche giapponesi. Tra gli omaggi, quello al mangaka Monkey Punch, scomparso lo scorso aprile.
MOVIE
Nata pochi anni fa, l'area Movie è oggi una delle aree in maggior crescita. Tra le tantissime proiezioni ed anteprime citiamo: Fate/Stay Night, City Hunter. Private Eyes, Weathering with You, REAL! – A Ghostbusters Tale, The Witcher, Dead Ant, Cercando Valentina – Il mondo di Guido Crepax, La Famosa Invasione degli Orsi in Sicilia, Il Giro dell'Horror, Terminator Destino Oscuro, Zombieland 2.
Tra gli ospiti: Rebecca Sugar, creatrice della serie Steven Universe.