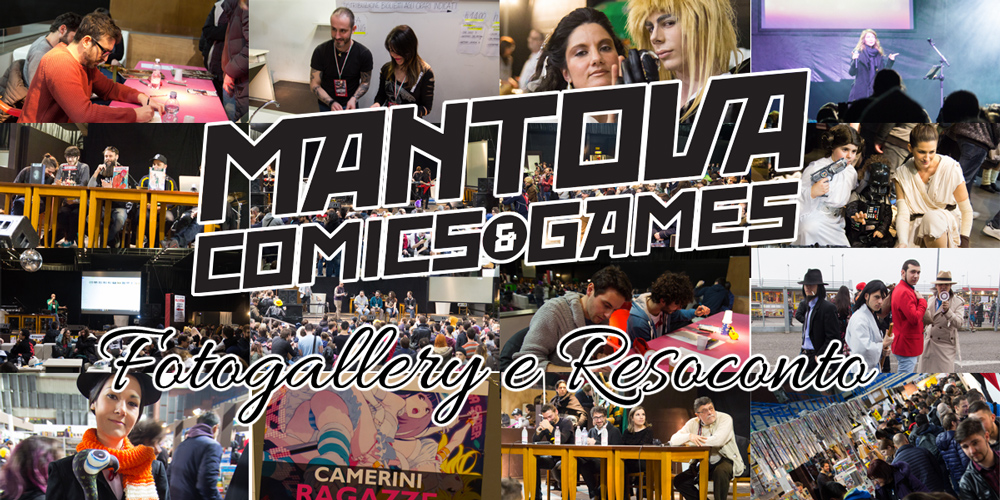 Il 4-5-6 marzo si è svolta la manifestazione ludo-fumettistica Mantova Comics and Games 2016. Noi del ilblogger.it abbiamo visitato la fiera il sabato e la domenica. Il programma era molto ricco, ve ne avevamo parlato qui: Mantova Comics & Games 2016: tutti gli ospiti e il programma.
Le cose che mi sono piaciute di più sono state:
La sala divanetti: nella maggior parte di fiere sedersi comodi è praticamente impossibile. E solo chi frequenta assiduamente questo tipo di manifestazioni sa quando possono essere stancanti, sopratutto al secondo se non terzo giorno di evento. Invece a Mantova c'è una sala piena zeppa di divanetti dove la gente può andare a sedersi, riposarsi, mangiare qualcosa, mentre magari si ascolta comodamente una conferenza o un concerto. Mica male!
Il Palabam: amo le fiere tutte concentrate in un'unica location. Sabato ad esempio ha piovuto tutto il tempo e la fiera non ne ha risentito minimamente. Un po' pochi i bagni, ma gli spazi tra gli stand erano sufficienti, all'interno del padiglione c'era un bar e addirittura un buon ristorante sushi. Posteggio comodo e gratuito. Nei dintorni negozi, ristornati e centri commerciali.
La conferenza sul doppiaggio: non ho seguito molte conferenze a dire il vero. Ma tra le poche che ho seguito, la più interessante è stata sicuramente quella sul doppiaggio cinematografico. I relatori erano Carlo Valli, storico doppiatore di Robin Williams, David Chevalier, voce di Loki di The Avengers e di Kylo Ren di Star Wars VII, e Benedetta Degli Innocenti, voce di Rei di Star Wars VII.
Il concerto di Cristina D'Avena: benché fosse su basi registrate (ma Cristina cantava live), è stato un concerto davvero ben riuscito. Cristina è bravissima sia tecnicamente come cantante, sia per la sua capacità di coinvolgere il pubblico facendolo cantare insieme a lei. Unica pecca l'audio, tenuto un po' troppo alto. I puffi, Sailor Moon, Occhi di gatto, One Piece, Dragon Ball, Holly e Benji, I cavalieri dello zodiaco, sono solo alcune delle sigle che ha cantato. Mi ha colpito molto la scelta dei brani: anziché cantare solo le canzoni più famose, ha inserito nel concerto anche seconde sigle (sia di Sailor Moon che di One Piece ha cantato due sigle), ha cantato brani lanciati non da lei ma da Giorgio Vanni (Dragon Ball, I cavalieri dello zodiaco…) e brani e brani meno famosi (Cri Cri, L'Europa siamo noi). Comunque poi ha recuperato nel finale la maggior parte delle sigle con un bel medley.
A proposito di Cristina D'Avena: vi consiglio di recuperare, se non li avete già, questi due bei cofanetti con le più belle tra le sue sigle: 30 e Poi… e 30 e poi… Parte Seconda, con tanto di cd, dvd e libro.
Le sessioni di dediche offerte dalla fiera: Alberto Dal Lago, Giuseppe Camuncoli, Laura Braga, Mirka Andolfo, Mario Del Pennino, Arturo Lauria, sono solo alcuni dei molti artisti che si sono resi disponibili a partecipare alle numerose sessioni di dediche ufficiali. Cosa che raramente succede in altre fiere. Quindi complimenti agli organizzatori.
Detto questo, qui sotto trovare il solito video stile The Blair Witch Project
realizzato sulla strada verso casa subito dopo la fine della manifestazione. E trovate poi una ricca gallery fotografica dell'evento con ben 50 fotografie.